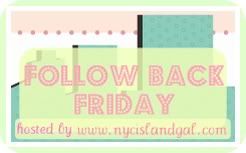 YAY!
I've joined a linky party over at NYC Island Gal, but I actually got the idea to join from my VERY FIRST BLOGGER FRIEND EVER, Olya over at Dreaming Skies. She's special because we were each other's firsts and were only following each other for the longest time! But now we've moved on (but we still follow each other). She has a fashion blog so go check her out.
Anyway, the linky party is all about yourself. So we have to list some RANDOM things about you. And since I have some new readers recently, I'd like to share myself a little with all of you.
I got married at the ripe old age of 18. Actually, a week after I turned 18 to be exact. I don't really recommend that for people (WAY TOO YOUNG AND STUPID) but it's worked out for us. We've had our ups and downs though. But I adore my husband and it was obviously for the best.
I can't believe he wore those FREAKIN' shoes.
Wyatt was an "accident". I forgot to take my birth control for like 3-4 days, and then jumped back on the bandwagon... but it was too late. THE DAMAGE HAD BEEN DONE. But it's the best thing I could of done (forgotten to take my birth control).
My father passed away this year from colon cancer and it's pretty much devastated me and has utterly changed my life. He was only 44.
My husband is in Security Forces for the Air force. That's pretty much a police officer. He's deployed right now policing the Army in Kuwait.
Speaking of my Husband, we're the same age. He's 9 months older, but we graduated High School together and dated since 10th grade.
I have lived in ALASKA! We moved there on a whim a year after graduating High School. We sold everything we had and just flew up there and started a little life. I'm glad we've moved back to the east coast though.
I'm pretty much obsessed with morning shows like The Today Show, Regis and Kelly, Hoda and Kathy Lee. I know it's crazy, but it's seriously what I look forward to in the morning. I got rid of my cable because it's all I really watch and I feel like I don't want to pay for anything else.
I hate to read. Books that is. But magazines I can handle.
I'm 23 and will 24 in September.
I'm 5'5".
I wear a size TEN shoe. And it sucks.
And that's it folks.
If you could vote for me today that would be MARVELOUS! Also, remember, I have a giveaway ending tonight. If you know anyone who could benefit from some super duper awesome boy's vintage clothes, have them enter. Just share this link with them - http://irocksowhat.blogspot.com/2010/06/giveaway.html .